ESG
ESG Policy
Daxin values integrity, innovation, intelligent integration, intercommunication, and respect for individuals, aiming to become an advanced foundry for materials innovations.
As a responsible global corporate citizen, we implement ESG policies into our businesses. We establish management procedures according to the Responsible Business Alliance (RBA) Code of Conduct to fulfill good corporate governance, R&D innovation, employee development, and social contribution. By connecting and integrating interdepartmental resources, we are advancing ourselves toward our ESG goals to be a sustainable company.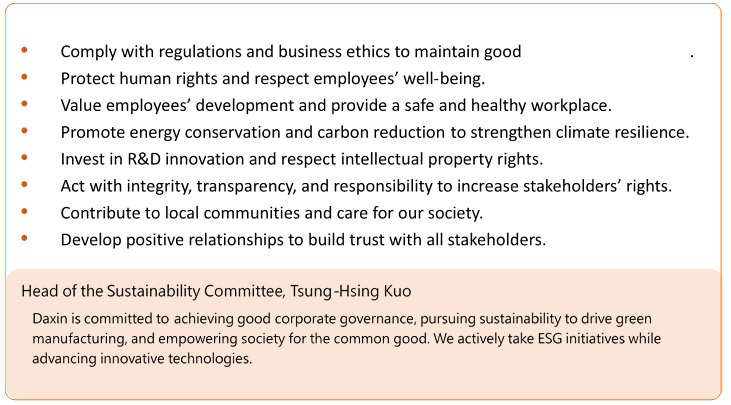 Sustainability Organization
The Sustainability Committee includes corporate governance, global presence, innovation, environmental sustainability, as well as talent & community. The President serves as the Head of the Sustainability Committee, while senior managers supervise the promotions and implementations of each group.
The Sustainability Committee refers to international sustainability trends, GRI, and industry benchmarks to determine material sustainability issue, management goals and policies.
The operational status of the Sustainability Committee is reported to the Board of Directors at least once a year.
The Board of Directors supervises the operations of the Sustainability Committee based on the reports from the committee and provides timely recommendations.